[ad#TEXTLINK]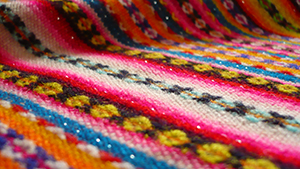 Traditional Peruvian Fabric
If you ever visit Peru, there is one traditional market you won't want to miss out on and that is the Sunday morning traditional market in Chinchero. The market lasts roughly 4 hours between 9am to about 1pm in the afternoon. Here you will find local produce, fruits, vegetables, pots, pans and handicrafts for sale. What sets the textiles sales at this market apart from more commercial markets such as the one at Pisac is that the textiles sold here are made in Chinchero. You will find that many of the people who own stalls at this market actually make their wares themselves. This means that if you purchase authentic Peruvian items from these markets, you are ensuring that the money paid for the items goes directly into the pocket of the maker.
If you are looking for more opportunities to purchase Peruvian handicrafts, there is usually a handicraft market in front of the church in the Main Square from about 3pm to 5:30pm on Sunday afternoons, Tuesdays and Thursdays. You will also have the opportunity to see weaving displays and the process of using natural dyes to dye wool.
A long, skilled history
Woven textiles have been around din Peru for more than 2000 years. That is more two millennia over which Peruvian weavers have had to perfect their weaving skills and techniques. The quality of Peruvian woven textiles has always revolved around the skill, knowledge and patience of the weaving craftsman and not around any weaving technology.
In fact, the technology used today still to weave even the most intricate textiles is often viewed as primitive. These weavers make use of the back strap loom, which has remained unchanged for hundreds of years.
The Peruvians weave their textiles from llama, sheep and alpaca wool. The wool is traditionally processed, as it has been for centuries, by use of a drop spindle. Each village weaves its own patterns and there are literally thousands of different layouts, practices, styles and techniques that are associated with Peruvian textile weaving.
In the more rural areas, a Peruvian village woman's status is defined by her ability to weave and the quality of the textile she produces. If she can weave well, it is assumed that she can do other things just as well. In many ways, the weavings created by one of these women, is a form of self expression. The inspiration for the colors and patterning are drawn from her surroundings, her life and her own moods. This puts Peruvian weaving in much the same light as contemporary art, a reflection of the goings on around and within the maker.
| | |
| --- | --- |
| [ad#BANNER] | Traditional Peruvian Clothes |
[ad#TEXTLINK]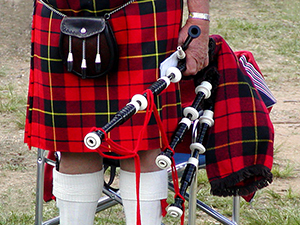 Scottish Tartan Skirt
For those that have Scottish heritage and would like to purchase a traditional souvenir or two it is easy to find them online. One way to show your pride is to look into tartan scarves. It gets cold in the states just as it does in the UK and they are brilliant gifts.
What is a tartan scarf?
Tartan is actually a specific design. It is a common misconception that this design is the same as the plaid design. This is untrue. A plaid is a blanket, not a scarf. You can also wear whatever tartan you like. This needs to be made clear because it is rumoured that you must be part of a clan to wear certain types. This is not true! Wear whichever tartan you like.
Back when traditional tartans became popular they used to be able to specify where people are from due to what was used to dye the wool. This is because certain plants and berries are made in certain locations. The first time a tartan was mentioned was 1578.
Another interesting fact about the traditional tartan is that Scots were banned from wearing them after they lost at Culloden in the year 1746. Finally, thirty seven years later they were able to wear the tartans again. Queen Victoria and the rest of the Royal Family sensationalized this design so much more and that is when it became more popular.
Business then boomed and then there was a large demand for clan tartan. In fact, there was quite a bit of confusion in regards to that. Many clans have the same types of tartans while there are a few clans that have added maybe one extra line or colour. There is a lot of history when it comes to the tartan and having one would really fill in the need for tradition in your home.
Whether you want to find something for your mother or your best friend you can find a traditional tartan scarf that suits almost anyone with Scottish pride! Tartan Scarves are commonly made out of lamb's wool. These proper traditional tartan scarves are found in Scotland and can be shipped from there to anywhere if you find a place to get them from.
There are so many different types of tartan scarves. They come in different colours and more than one hundred and fifty different designs. Travel to Scotland and bring home the best traditional souvenirs you can find.
| | |
| --- | --- |
| [ad#BANNER] | Traditional Scottish Tartan |
[ad#TEXTLINK]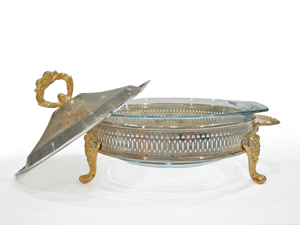 Traditional Malaysian Bowl
Once you visit Malaysia, you are sure to wish that you could bring back some of the warmth and vibrance to cherish for the rest of your life.  Fortunately, there are all kinds of traditional souvenirs that will help you recapture the memories of a vacation in this area.  In fact, a number of objects that you can choose from can be as easily placed in an office setting as they can your home.
Many people that visit Malaysia choose to bring back objects made from pewter.  As you may be aware, pewter is made from a combination of tin and other metals. Since Malaysia has a number of mines, pewter objects tend to be fairly inexpensive.  When you visit Malaysia you may even be able to watch as artisans pour molten pewter into steel molds.
Depending on your interests, a pewter card holder may be of some use in your office as well as your home.  Chances are, you can find dozens of card holders with interesting and attractive designs on them.  Even if your office does not have an Asian theme to it, these card holders will still fit perfectly.  You may  also want to keep this type of card holder in your home.  While you may not want to fill it with your  own business cards, you can always place ones that you collect from others in the holder.  If you keep this object on your desk, it may be heavy enough to serve as a paperweight, and also easy enough to spot when you are looking for a number that hasn't made its way into your address book.
A number of people also enjoy shopping for pewter mugs.  If you can find one that matches a card holder, it may make a perfect object to keep pens and pencils in.  Needless to say, if you want a special cup to use for coffee or other beverages, a pewter cup will always have a distinctive look and level of appeal.
Individuals that are looking for something to decorate your home, pewter photo frames and clocks from Malaysia are sure to add a charming accent.  Since you will find a wide variety of themes and sizes, you may even want to purchases one item for every room in your home.  As you learn more about the culture of Malaysia during your visit, you may also want to look for traditional souvenirs made from pewter that remind you of interesting legends or cultural symbols.