[ad#TEXTLINK]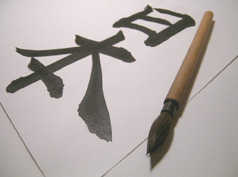 Chinese Writing Brush
When people think of a vacation in China or surrounding countries, they often think of bringing back dragon sculptures and objects that can be used in Feng Shui. While these items are ideal traditional souvenirs, there are also some others that you might enjoy buying.  For example, you might enjoy a writing set that will help you create beautiful artwork.
If you are planning to buy a writing set, or create one, it will need to have four pieces.  The most important part of a Chinese writing kit is the brush.  This is usually a long brush with tapered bristles that merge into a sharp point. You should select a brush that feels comfortable and light in your hand.  As you study each brush, you should also make sure that you find one that does not have stray bristles, or other signs of poor construction.
The next thing you will need to look for is an ink stone.  Unlike conventional inks used for calligraphy, traditional ink in China comes in a stick.  The stone is used for mixing the ink with water. Typically, you will accomplish this by adding a little bit of water to the stone, and then rubbing the ink stick against the stone.   Even though there are many different sized stones, you should start with one that is slightly larger than your hand.  It will also be of some help to choose a stone with decorations that appeal to you.
For the most part, you will only be able to find ink sticks in black. In most cases, these sticks come with inscriptions on them.  You can always ask what these inscriptions mean, and then select one that suits your needs.  If you are planning on doing a lot of writing or artwork with your new set, it may be of some use to buy several ink sticks.
Finally, you will need to purchase paper.  Traditionally, Chinese artists make use of rice paper.   Today, there are many different colors available, as well as papers that have special designs in the background.  Once you start experimenting with your new writing set, you may want to work with mulberry paper, as well as conventional white paper.  At the very least, when you buy a Chinese writing kit, you will have a souvenir that can easily be used for a hobby that will last for years on end.
| | |
| --- | --- |
| [ad#BANNER] | Chinese Calligraphy Character |
[ad#TEXTLINK]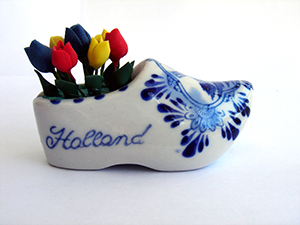 Dutch Delft Blue Shoe
Dutch Delftware, or commonly shortened to Dutch Delft Blue is extremely popular for household user items, collectables and sought after souvenirs. What makes Delft Blue so user-friendly is its versatility. You find Royal Delft that is top quality for household use and as collectables. Then there is the middle quality grade for everyday use and then you can buy a great variety of tourist gifts. To fully understand why Delft Blue is so popular with the local Dutch people as well as collectors and tourists, you have to go back to the beginnings of Delftware.
History
During the 1600s the Dutch East India Company imported huge amounts of Chinese porcelain, which was very popular at that time across Europe amongst the affluent people. At the start of the 17th century the Dutch potters saw an opportunity and started imitating the imported porcelain wares. In a short time there were numerous factories in both Rotterdam and Delft producing plates, tiles and vases. The tiles especially were popular as an isolation material in buildings.
The industry had to face many challenges and the English Westwood potteries became their greatest competition. The quality of the Dutch Delftware started to suffer as they were stagnating without new innovation until at the end of the 19th century the industry was at a virtual standstill. The Dutch potters rallied and completely changed the techniques they had been using and the result was the Delft Blue that became famous across the world and is still ever-popular today.
Something for everyone
For the true collector there is the Royal Delft Blue that comes with the official trademark stamped on the bottom of each piece that is the guarantee that it is authentic Delftware. These pieces are created and hand painted by trained potters and artists and fetch high prices that collectors gladly pay.
The type of Delft Blue items that are mostly found in modern Dutch homes are vases, floral plates and ginger jar and tulip vase sets [garniture sets].many people like to buy this grade of Delft Blue pottery as a combination of souvenir and user item gifts to take home. The reason being that the blue and white Delftware is classic and fits into any home and environment.
Souvenirs of Dutch Blue come in a large variety of styles from wall plates, jewelry boxes, heart shaped boxes, music boxes, figurines, windmills and of course the well-known tiles that delight people. A commemorative tile in honor of a special occasion is a very popular Dutch Delft Blue gift and many places will have this made up for you.
| | |
| --- | --- |
| [ad#BANNER] | Traditional Delft Figurine |
[ad#TEXTLINK]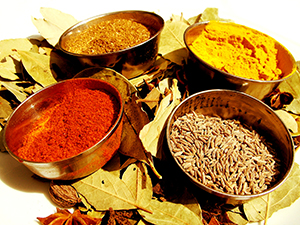 Indian Curry Spices
Are you going to find yourself in India anytime soon?  Do you want to bring home traditional souvenirs, as you do when you go to a land that is far off, but are a little uncertain of what there is to present to all your friends and family upon your return?  You are sure to find that once you are there, available there are so many options that your head may very well spin!  This is a fantastic thing because that means that every one of your friends and family members will be able to have souvenirs to cherish forever.  Any one of the many items unique only to India are sure to be something they will thoroughly enjoy.
If you have any cooks in your family that love more spicy foods, you are sure to easily find an Indian cookbook and some dried spices.  This you can bring home for many traditional dinners at the home front.  Bring these recipes home for truly traditional meals and have fun in the kitchen learning how to make them.  Sometimes it is a wonderful bonding tool–learning to cook–so why would you not want to expand your horizons?
Henna dye is another traditional souvenir to return to. Henna is becoming big in the western world.  It is a good idea to bring home multiple tubes of henna dye so that you can avoid expensive trips to places that do this kind of work on a professional level.  These are great for weddings and other festivities.  Bring back a cultural tradition that is truly out of this world.
Of course, a trip to India is not complete without taking a browse through a busy bazaar.  For one thing, it is essential that you purchase some form of Indian tea, a fundamental element of Indian living.  Don't neglect to bring home a few boxes of your favourite assortment.  Are you short on time, and can't make a tea plantation?  Wander until you find yourself at any tourist cut-rate store for cleverly draped teas from all the diverse regions of India.
Incense is a great aspect to India that has even breached the Western world (though it is best to get it from here: incense from India is true incense).  It is used in shrines and temples, and there are hundreds of different scents available.  Couple the sticks with an engraved incense box or mineral incense stand to make a great traditional gift for friends and loved ones at home.
Bangles are the perfect beat for your step when you are in India.  Glass bangles are the most inexpensive, but metal bangles are durable, and can withstand most wear-and-tear.  Scarves, saris, shawls, and carpentry are also great souvenirs.  With all of the great choices of souvenirs to choose from, you cannot go wrong, and it will be an amazing experience to boot!
| | |
| --- | --- |
| [ad#BANNER] | Indian Traditional Sari |