Archive for September 2010
[ad#TEXTLINK]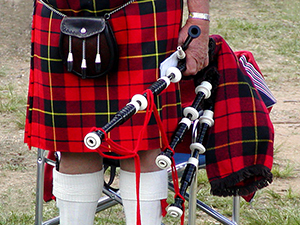 Scottish Tartan Skirt
For those that have Scottish heritage and would like to purchase a traditional souvenir or two it is easy to find them online. One way to show your pride is to look into tartan scarves. It gets cold in the states just as it does in the UK and they are brilliant gifts.
What is a tartan scarf?
Tartan is actually a specific design. It is a common misconception that this design is the same as the plaid design. This is untrue. A plaid is a blanket, not a scarf. You can also wear whatever tartan you like. This needs to be made clear because it is rumoured that you must be part of a clan to wear certain types. This is not true! Wear whichever tartan you like.
Back when traditional tartans became popular they used to be able to specify where people are from due to what was used to dye the wool. This is because certain plants and berries are made in certain locations. The first time a tartan was mentioned was 1578.
Another interesting fact about the traditional tartan is that Scots were banned from wearing them after they lost at Culloden in the year 1746. Finally, thirty seven years later they were able to wear the tartans again. Queen Victoria and the rest of the Royal Family sensationalized this design so much more and that is when it became more popular.
Business then boomed and then there was a large demand for clan tartan. In fact, there was quite a bit of confusion in regards to that. Many clans have the same types of tartans while there are a few clans that have added maybe one extra line or colour. There is a lot of history when it comes to the tartan and having one would really fill in the need for tradition in your home.
Whether you want to find something for your mother or your best friend you can find a traditional tartan scarf that suits almost anyone with Scottish pride! Tartan Scarves are commonly made out of lamb's wool. These proper traditional tartan scarves are found in Scotland and can be shipped from there to anywhere if you find a place to get them from.
There are so many different types of tartan scarves. They come in different colours and more than one hundred and fifty different designs. Travel to Scotland and bring home the best traditional souvenirs you can find.
| | |
| --- | --- |
| [ad#BANNER] | Traditional Scottish Tartan |