[ad#TEXTLINK]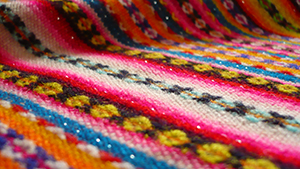 Traditional Peruvian Fabric
If you ever visit Peru, there is one traditional market you won't want to miss out on and that is the Sunday morning traditional market in Chinchero. The market lasts roughly 4 hours between 9am to about 1pm in the afternoon. Here you will find local produce, fruits, vegetables, pots, pans and handicrafts for sale. What sets the textiles sales at this market apart from more commercial markets such as the one at Pisac is that the textiles sold here are made in Chinchero. You will find that many of the people who own stalls at this market actually make their wares themselves. This means that if you purchase authentic Peruvian items from these markets, you are ensuring that the money paid for the items goes directly into the pocket of the maker.
If you are looking for more opportunities to purchase Peruvian handicrafts, there is usually a handicraft market in front of the church in the Main Square from about 3pm to 5:30pm on Sunday afternoons, Tuesdays and Thursdays. You will also have the opportunity to see weaving displays and the process of using natural dyes to dye wool.
A long, skilled history
Woven textiles have been around din Peru for more than 2000 years. That is more two millennia over which Peruvian weavers have had to perfect their weaving skills and techniques. The quality of Peruvian woven textiles has always revolved around the skill, knowledge and patience of the weaving craftsman and not around any weaving technology.
In fact, the technology used today still to weave even the most intricate textiles is often viewed as primitive. These weavers make use of the back strap loom, which has remained unchanged for hundreds of years.
The Peruvians weave their textiles from llama, sheep and alpaca wool. The wool is traditionally processed, as it has been for centuries, by use of a drop spindle. Each village weaves its own patterns and there are literally thousands of different layouts, practices, styles and techniques that are associated with Peruvian textile weaving.
In the more rural areas, a Peruvian village woman's status is defined by her ability to weave and the quality of the textile she produces. If she can weave well, it is assumed that she can do other things just as well. In many ways, the weavings created by one of these women, is a form of self expression. The inspiration for the colors and patterning are drawn from her surroundings, her life and her own moods. This puts Peruvian weaving in much the same light as contemporary art, a reflection of the goings on around and within the maker.
| | |
| --- | --- |
| [ad#BANNER] | Traditional Peruvian Clothes |