[ad#TEXTLINK]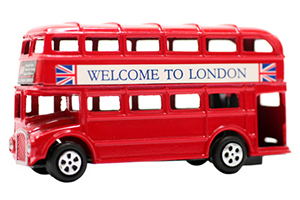 London Bus Souvenir
Traditional London souvenirs vary but the most popular is the London Bus. It is considered one of the principal icons of London. These are typically red, double deck buses in which the customers enter on the back. Despite the fact that these Routemaster buses have been phased out there are a couple that still run routes. This makes them a fantastic symbol of traditional London.
It is said that buses have been used in London since the year of 1829. Yes, 1829! This was back when a man named George Shillibeer began operating an omnibus that was drawn by horses. Due to such rich history many people bring traditional souvenirs home in the shape of these historic buses.
Travel the United Kingdom and have fish and chips. Don't forget to bring home wonderful souvenirs to your friends and family. If not traditional bus souvenirs there are thousands of different types of traditional souvenirs; whether it is a simple London key ring or a mug.
Find traditional London guardsman bears, cuff links, pens, and t shirts. There is never an ending for the amounts of souvenirs you can get from London. Make your home feel like your home country and don't over spend. Or if you have a particular obsession with London that could work, too.
The best traditional Christmas ornament is a blown glass London bus. Celebrate the holidays the British way by decorating your tree. There are traditional ornaments in the shape of the double deck buses. Or maybe purchase a beefeater, also known as the Yeaman Warders. These people are known as King Henry VIII's bodyguards.
With so many options for ornaments you never run out of ideas for traditional tree ornaments. Want to find something cute for your kids? There are teddy bear ornaments in different colours. With such a variety it is enough to make everyone happy–even those co workers you don't necessarily like but have to get a gift for anyway!
Traditional souvenirs are a great way to show and share your heritage with other people. Explore the world and never forget to bring back fantastic treasures to remember all of the beautiful sights that were seen. It doesn't matter whether you want to bring home ornaments or dolls there is always something for someone. Can't think of something to get them? Give it a look around the souvenir shops to see what seems like the best for your gift receiver!
| | |
| --- | --- |
| [ad#BANNER] | Traditional London Bus |