[ad#TEXTLINK]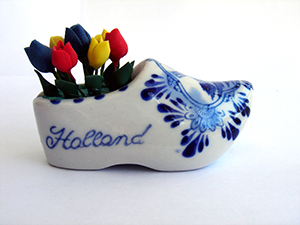 Dutch Delft Blue Shoe
Dutch Delftware, or commonly shortened to Dutch Delft Blue is extremely popular for household user items, collectables and sought after souvenirs. What makes Delft Blue so user-friendly is its versatility. You find Royal Delft that is top quality for household use and as collectables. Then there is the middle quality grade for everyday use and then you can buy a great variety of tourist gifts. To fully understand why Delft Blue is so popular with the local Dutch people as well as collectors and tourists, you have to go back to the beginnings of Delftware.
History
During the 1600s the Dutch East India Company imported huge amounts of Chinese porcelain, which was very popular at that time across Europe amongst the affluent people. At the start of the 17th century the Dutch potters saw an opportunity and started imitating the imported porcelain wares. In a short time there were numerous factories in both Rotterdam and Delft producing plates, tiles and vases. The tiles especially were popular as an isolation material in buildings.
The industry had to face many challenges and the English Westwood potteries became their greatest competition. The quality of the Dutch Delftware started to suffer as they were stagnating without new innovation until at the end of the 19th century the industry was at a virtual standstill. The Dutch potters rallied and completely changed the techniques they had been using and the result was the Delft Blue that became famous across the world and is still ever-popular today.
Something for everyone
For the true collector there is the Royal Delft Blue that comes with the official trademark stamped on the bottom of each piece that is the guarantee that it is authentic Delftware. These pieces are created and hand painted by trained potters and artists and fetch high prices that collectors gladly pay.
The type of Delft Blue items that are mostly found in modern Dutch homes are vases, floral plates and ginger jar and tulip vase sets [garniture sets].many people like to buy this grade of Delft Blue pottery as a combination of souvenir and user item gifts to take home. The reason being that the blue and white Delftware is classic and fits into any home and environment.
Souvenirs of Dutch Blue come in a large variety of styles from wall plates, jewelry boxes, heart shaped boxes, music boxes, figurines, windmills and of course the well-known tiles that delight people. A commemorative tile in honor of a special occasion is a very popular Dutch Delft Blue gift and many places will have this made up for you.
| | |
| --- | --- |
| [ad#BANNER] | Traditional Delft Figurine |