Posts Tagged 'rice paper'
[ad#TEXTLINK]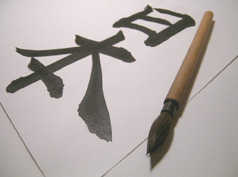 Chinese Writing Brush
When people think of a vacation in China or surrounding countries, they often think of bringing back dragon sculptures and objects that can be used in Feng Shui. While these items are ideal traditional souvenirs, there are also some others that you might enjoy buying.  For example, you might enjoy a writing set that will help you create beautiful artwork.
If you are planning to buy a writing set, or create one, it will need to have four pieces.  The most important part of a Chinese writing kit is the brush.  This is usually a long brush with tapered bristles that merge into a sharp point. You should select a brush that feels comfortable and light in your hand.  As you study each brush, you should also make sure that you find one that does not have stray bristles, or other signs of poor construction.
The next thing you will need to look for is an ink stone.  Unlike conventional inks used for calligraphy, traditional ink in China comes in a stick.  The stone is used for mixing the ink with water. Typically, you will accomplish this by adding a little bit of water to the stone, and then rubbing the ink stick against the stone.   Even though there are many different sized stones, you should start with one that is slightly larger than your hand.  It will also be of some help to choose a stone with decorations that appeal to you.
For the most part, you will only be able to find ink sticks in black. In most cases, these sticks come with inscriptions on them.  You can always ask what these inscriptions mean, and then select one that suits your needs.  If you are planning on doing a lot of writing or artwork with your new set, it may be of some use to buy several ink sticks.
Finally, you will need to purchase paper.  Traditionally, Chinese artists make use of rice paper.   Today, there are many different colors available, as well as papers that have special designs in the background.  Once you start experimenting with your new writing set, you may want to work with mulberry paper, as well as conventional white paper.  At the very least, when you buy a Chinese writing kit, you will have a souvenir that can easily be used for a hobby that will last for years on end.
| | |
| --- | --- |
| [ad#BANNER] | Chinese Calligraphy Character |